Ever hear the timeless expression, "wear your heart on your sleeve" to indicate showing vulnerable love? In the image of the Sacred Heart, what I find so poignant is how Jesus points to His revealed, unguarded Heart, leaving Himself vulnerable out of His desire to give His heart to us and to receive ours in return. He truly wears His heart on His sleeve, so to speak.
Colloquial expressions can be taken for granted, but I dig deeper when I hear an over-used expression, such as,"Home is where the heart is." I ask, whose heart? I say our home is where the Heart of Jesus longs to live. The Sacred Heart should be that from which our earthly home forms its beat. In my new book, Our House of the Sacred Heart, the red house (pictured on the book's cover and described in its pages) serves as a concrete metaphor for this reality ― that the Sacred Heart is our true home sheltering and embracing us no matter what befalls us… if we invite Him. "Say to the Lord my fortress, my refuge, my God in whom I trust!" (Psalm 91:1-2)
What inspired me to write Our House of the Sacred Heart was the realization that I had been experiencing the presence of the Sacred Heart at work in my life all along and that the devotion had been handed down through five generations of my family. I spent so much time as a child in the house of my grandparents. It was a red house, brightly painted, the same color as the Sacred Heart. Inside it, I encountered a strong, time-tested faith that spanned many generations and left a big impact on me. This house became a metaphor for the refuge Jesus' Heart provides. It taught me through the signal graces I experienced there that I can trust in Jesus no matter what. I started writing Our House of the Sacred Heart not long after the 2020 lockdowns had begun. Suddenly no one was visiting each other's houses… everyone was just sheltering in place. I thought of how the heart of Jesus welcomes everyone. In my book, Our House of the Sacred Heart, the reader is invited to journey more deeply into that heart. We journey through 33 life lessons shared, each based on one of the lines in the Litany to the Sacred Heart. Each lesson includes an unforgettable story connecting moments in Scripture to our contemporary lives; inspiring prayers; devotions; discussion questions; and full-color classic art.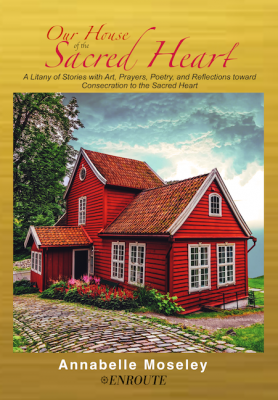 The way I'd sum up the message of these life lessons is this: I teach how to do what the hymn "O God beyond All Praising" advises: "whether our tomorrows be filled with good or ill, we'll triumph through our sorrows and rise to bless you still… to marvel at your beauty and glory in your ways and make our joyful duty a sacrifice of praise." Seeking refuge and closeness to God in The House of the Sacred Heart brings us greater faith, hope, love… and joy. The book offers practical ways to consecrate your heart and enthrone your home to the Sacred Heart of Jesus.
If you work to become what I call a "student of Grace" you'll train your ear to hear the Sacred Whisper and train your eye to be attentive to the clues God leaves in each of our lives, like breadcrumbs leading us home to heaven. This goal might sound difficult or lofty but it is actually practical. I call it "the gift of the poet's eye," to pay attention to how the Word made flesh, the Author of Salvation, is calling you to see the poetry in your life… the symbols of faith, the beauty that comes through challenge.
The book gives practical tips for how to make YOUR house a house of the Sacred Heart. It teaches how to plan an Enthronement ceremony, led by the priest or father of the home, making Jesus the King of your home, and Mary the Queen. The details of how to do this are outlined in one of the chapters in my book and once you enthrone your house to the Sacred Heart, you'll notice it's a game-changer! Other tips for how to make your house a house of the Sacred Heart include ways to decorate and devotions to incorporate and the book gives those in detail. Our House of the Sacred Heart is available on Amazon and anywhere books are sold.
I invite you to join a growing community that is embarking upon the online 33-Day Consecration to the Sacred Heart! At the time of this writing the Feast of the Sacred Heart is coming up this Friday… (June 11, 2021) but anytime is a blessed time to draw closer to Our Lord's Heart! Sign up there with your name and email and for 33 days you'll get brief, guided podcasts emailed to you each day!  It won't take a lot of your time each day but it will be time well spent. Can you spare 10 minutes for God? Then, you'll be praying the Litany of the Sacred Heart of Jesus, while also journeying a work of reparation one day at a time, and at the Finish Line on Day 33, Consecrate yourself to the Sacred Heart of Jesus. There'll be stunning art, music, beautiful prayers and reflections. Can't wait to journey with you! I hope you'll register today.
Jesus, meek and humble of Heart, make our hearts like unto Thine.
If you make a purchase via a link on this site, we may receive a small commission. There will be no added cost to you. Thank you!