I'm grateful to have received a review copy of episodes 1 & 2 of the Friends and Heroes adventure and Bible story DVD's.  These are a fun series that my own children have enjoyed. While this is not a religious education curriculum in itself, it does provide a supplement that may be a fit for your parish, or for use at home with your own family.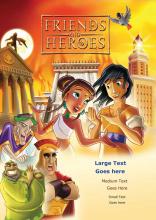 What it is: This cartoon series is set in Alexandria, Egypt, under Roman rule, at the time of the early Church – prior to the destruction of the Temple in Jerusalem.  Through their adventures, the friends (Christian and pagan children) learn more about what it means to be a Christian.  In each episode, at some point one of the characters tells a Bible story; there is a clear break in the animation for the Bible story sequence, which is told in computer-generated animation rather than traditional drawn-cartoon style, so that the contrast between fiction and fact is clear.
The style of the story-telling is very earnest, with clearly-enunciated moral lessons.  (If you are a connoisseur of children's programming, the feel of the script is similar to the Redwall cartoons, or the Air Buddies series, only without the potty humor.)  Here's a preview that gives you a feel for the type of storytelling, and lets you see how the break between fiction and Bible is handled:
Extended Clip, Episode 1, Friends and Heroes
Something I like: The convergence of cultures.  Most students will study history by learning about Egypt, Greece, Rome, and "Bible Times" as four distinct civilizations.  This series is excellent for showing the overlap of the Mediterranean cultures.  For this reason, even though I target this as "early elementary school", I think the videos are worth watching for older elementary school students who have recently done their Ancient Civilizations unit.
A note about modesty:  One of my concerns in recommending the series is that one of the lead female characters does not dress modestly. I spoke to Tom Stilwell at Friends and Heroes, and he explained why that is so:
The character is Portia and she will be one of the lead characters for the rest of the series. Keep in mind, Portia is not a believer – as a matter of fact, her journey to faith is one of the themes running through all 39 episodes of the series. The different way she dresses as compared to Leah and Rachel (the other two girls) is actually a point for teaching about modesty in one of the homeschool unit studies.

The creators of Friends and Heroes continually worked to find the proper balance between being historically accurate and being proper and appealing to children. This shows up in small things like the colors of the characters' clothing (working class people like Macky and his family would not have been able to afford much in the way of brightly colored clothes, but children find the colors appealing) to Portia's attire.

In all likelihood, as an aristocratic Roman girl, Portia would have actually dressed considerably more immodestly than she does in the series. Again, both sides were considered and a decision was made. Most people are okay with the result, but a few do have reservations. (I am not trying to change your mind, just give you some background so that you know that this was one of innumerable  thoughtful and prayerful decisions in the making of the series.)
Given the serious problem with immodesty today, I would strongly support following F&H's lead, and use this as an opportunity to teach girls about dressing modestly, while also cultivating a charitable attitude towards their peers who are immersed in the dictates of the fashion industry.  With the caveat that the parish needs to first deal seriously with setting standards for appropriate dress.
Catholic versus "Mere Christianity": This is a general-market series written for Christians of all denominations.  Episodes 1 & 2 are set in everyday life, there are no scenes that show clergy or Christian worship.  As a catechist you'll want to include some basic teaching on Bible words like epískopos and presbýteros.  Ideally, elementary-aged children should learn a few memory verses that show where to find the Sacraments in Scripture.
Target Audience: Early Elementary School. In my group of test-children, the first-grader was absolutely fascinated by the program, and has chosen to watch it over and over again.  The 3rd and 5th graders made varying amounts of noise about how they were too old for it, but both watched both episodes with total attention.  The 7th grader could walk in and out of the room and not feel compelled to sit and watch the show.
Boys or Girls? Both.  The opening credits include an action-sequence montage designed to trick restless 6-year-old boys into sitting down and watching.  There are strong male and female leads, and my test-group girls clearly enjoyed the show.
Where to fit in the curriculum?  These videos meet the "Let's Decompress" part of the schedule.  In a regular religious ed program, I would put this after the traditional lesson, when the little brains are ready to unwind and digest what they've learned. This should not stand in place of the catechism lesson, but can be a good way to deal with lulling energy levels if the time slot for religious ed is a tad late for little ones with early bedtimes, or comes right after a long exhausting day of first grade.  Other possible uses:
The video segment of a half-day or all-day Vacation Bible School program.
To entertain kids so parents can attend Bible study, RCIA, or that sacramental-prep meeting.
For children of volunteers to watch during classroom prep sessions.
To show during drop-off or pick-up time, if some students are dropped off early or picked up late.
Because your young boys in the audience are going to immediately want to act-out their favorite scenes once the final credits start to roll, plan accordingly.  If you can't release them directly to the playground or gym, head off the re-enactment of the smashing-pottery scene by having your next activity ready to go, and make it engaging.  Probably pretzel sticks are not the best snack for children who've just seen Roman soldiers with swords drawn.
A note on pricing and licenses: When comparision shopping, I found that the DVD's typically cost about $10 for a single-episode or $20 for a two-episode DVD.  Pay attention when you purchase if the price seems lower than expected.  For use in the classroom, the most cost-effective way to purchase the series is to buy the DVD Series Pack, which includes a lifetime public display license with purchase.
The standard DVD series includes a Spanish track, as well as all these other languages as well.
***
Your Turn:  Have you used any off-the-shelf videos in your religious education program?  Which ones do you like, and how do you use them?
If you make a purchase via a link on this site, we may receive a small commission. There will be no added cost to you. Thank you!